GENERATION TO GENERATION
Passing on a Legacy of Faith to Our Children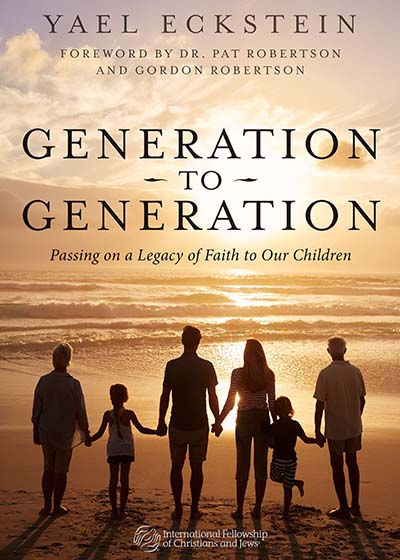 ABOUT GENERATION TO GENERATION
"The greatest legacy one can pass on to one's children and grandchildren is not money or other material things accumulated in one's life, but rather a legacy of character and faith." — Billy Graham
In Judaism, faith is passed down from one generation to the next primarily through the holy observances, rituals, and traditions that happen within the life of the family. Through the weekly observance of the Sabbath, Jewish children learn the importance of setting priorities and putting God first. As the family gathers around the seder table for Passover, children learn the value of asking questions and seeking wisdom. Each holiday observed, and each tradition followed are opportunities to reinforce the fundamental values of faith.
Generation to Generation unlocks these holy observances and traditions and reveals the key values they reinforce. Each chapter also includes a special section containing insight on how the observance is mentioned in the Christian Bible along with questions and Bible stories to discuss with your family. Bible memory verses are offered to reinforce each key value.
These are the values and rituals that Yael Eckstein learned from her father, that she and her husband are now passing on to their four children, and that will allow you to pass on a strong and living faith to your children and grandchildren.
WHAT PEOPLE ARE SAYING
"For years, I have longed for a book, a manual, that could be used by Christian families to transmit a living faith through the generations even while living in a hostile culture. Yael Eckstein has written that book. May you study it, may you adopt it, and more importantly, may you do what is written here." — Gordon Robertson, President and CEO, The Christian Broadcasting Network, Inc.
"Your chapter on Shabbat will definitely help me to pass on this God-given blessing to my children. I know the Lord put it on my heart to read your [book], and I am blessed for it. Thank you!" — D. Caster, Fellowship supporter.
"The chapter [on the Sabbath] was outstanding, provoking reflective, meditative thoughts on my priorities on my sabbath day as a Christian. The added scriptures at the chapter's end was an excellent idea! I am also thinking of families that would benefit from that book as their family devotion. Congratulations on a well-written book!" — H. Minter, Fellowship supporter.
"I think it is wonderful and very timely and very needed worldwide this book and true principles and love for God and others and true wisdom shared, Yael … Thank you for writing and living this and sharing." — L. Weader, Fellowship supporter.